Large Gutters Built to Last
Looking For Box Gutters?
Often referred to as commercial gutters, box gutters are typically used for large commercial buildings or on residential homes whose homeowners want to achieve a modern look. They are an extremely efficient gutter system meant for handling more water runoff than other types of gutters, thus reducing the chance of building or home water damage.
Storm Master box rain gutters are customized to your commercial building or home and come in a variety of colors, sizes and materials, ensuring the perfect fit and match for your building or home.
Large Gutters for Your Roof
You will most often see box gutters installed on commercial buildings, but if you have a home with a large (often flat) roof, then you may need a strong set of custom box rain gutters to collect the high amount of water runoff. Because of how much rain water runoff they can manage, box gutters also need to use a larger downspout system to safely transport away the collected water.
These rain gutters are best for flat roofs, as flat roofs tend to collect more water than other houses. Our box gutters include a hidden flange for installation on these roofs, making them a great option. Storm Master gutter pros have over 40 years of experience manufacturing and installing gutters for commercial properties and homes, so you can rest well knowing we'll provide you with perfect results.
A Straight Forward Style
Many people who choose box gutters do so for the straight-edged look. This simple design can be used to outline your home and give it that modern, finished look.
Box gutters are often used to restore historical homes as well. Depending on the application, they can act to preserve the style of older buildings from specific time periods. We have the knowledge and the experience to recommend what type of gutters are best for your commercial property or home, so don't be afraid to contact us with any questions.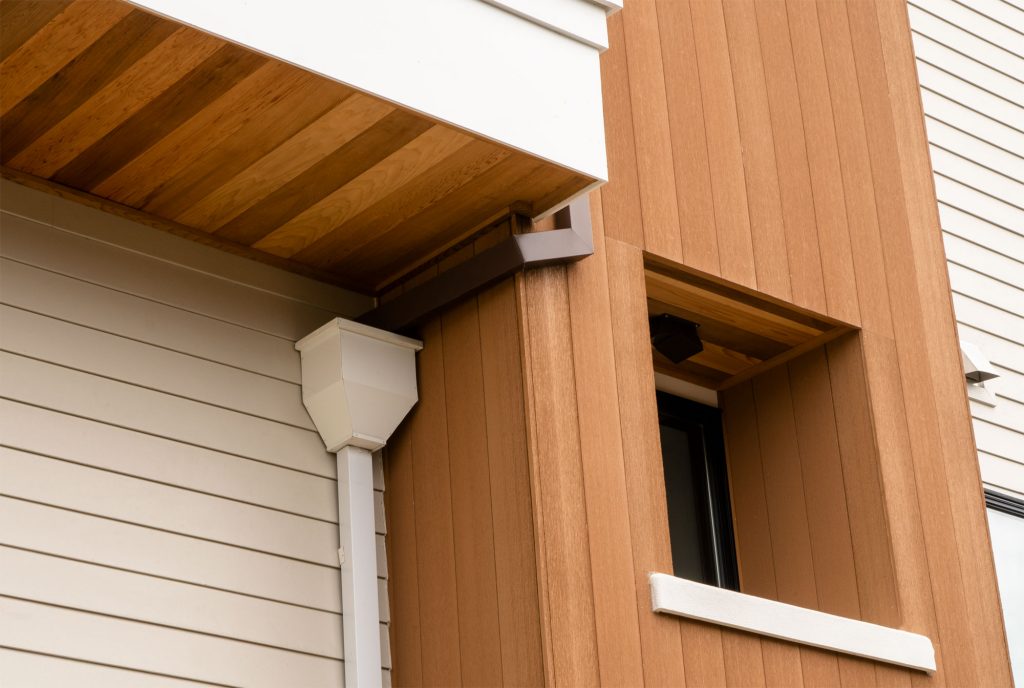 Seamless for No Leaks
Our 6″ aluminum box gutters are seamless, meaning that there are no gaps from which water can leak. As a result, seamless gutters can save you from spending thousands on repairing water damage to your property. Additionally, seamless gutter systems won't sag over time.
You can trust Storm Master Gutters to provide you with quality, durable box gutters that will hold up for many, many years. With our seamless variants, you'll get gutters that properly route water from your property – and look great doing it!
Custom Gutters Just for You
We bring your gutters directly to you with our special truck-mounted gutter machine that shapes your gutters on location. Our custom box gutters come in 6″, 7″ and 8″ sizes and are made on the job site exactly how you want them. You can choose the size, color, weight, and material for your box gutters.
Our custom rain gutters are reliable and will add to the appeal of your commercial property or home. At Storm Master, we want to be sure you are satisfied with the final result, doing everything we can to create quality gutters tailored to your preferences and the specific needs of your building or home.
Commercial Gutters
Larger commercial properties often require installation of large commercial gutters. We offer 6″ seamless box gutters and 7″ and 8″ box rain gutters installed in sections where large gutters are needed due to the roof size and field conditions requiring less leader locations.
Our commercial box gutters come with a back flange option for flat roofs requiring installation directly on the top end of the roof line. These gutters usually require a 4×5 smooth or corrugated downspout to accommodate the increased water volume.
Special roofing configurations require installation of leader heads, also called conductor heads. These help to funnel abnormal amounts of water that may be concentrated in a small area. Decorative leader heads are also used in historical restorations or to fulfill unique architectural specifications. Most decorative leader heads are manufactured in copper due to the its soldering capabilities.
Although most of our box gutters are made of aluminum or galvalume, we usually utilize the same metal that's used for capping or indicated within the job specifications. Below are some examples of the more commonly used commercial box gutter sizes and colors.
Contact us to discuss your unique commercial or residential gutter needs.
Common Box Gutter Sizes
Common Box Gutter Colors