Finally, an honest, capable, friendly & reliable gutter company…
Locally owned and operated, Storm Master Gutters has been a leader in gutters and gutter installation for over 40 years. Our expert gutter installation services are unmatched and provide protection for the life of your home. Storm Master stands behind every installation with outstanding service and support, serving homeowners, contractors, home builders and property managers throughout NJ, PA, DE, MD and VA.
Why Choose Storm Master For Gutter Installation?
Our gutter installers are exceptionally skilled & reliable
We're committed to honesty, integrity, excellence, & 100% customer satisfaction
We'll provide personalized, affordable gutter service for anyone
We offer a wide range of gutter size, profile, material, weight and color configurations
We'll give you a free, no-obligation quote
Rain Gutter Installation Services
Our gutter installation services include aluminum gutters, copper gutters, seamless half-round gutters, custom gutters, gutter protection and more.
Aluminum Rain Gutter Installation
Aluminum rain gutters can add both aesthetic beauty and security to your home. Because most aluminum rain gutters are seamless in construction, they help to prevent expensive leaks and water damage. Due to their seamless design, there is no place for water to leak out as it travels down.
Aluminum gutters come in K-style, half round and box varieties. K-style gutters are shaped so that their tops are wide to collect more water. They use a premium Hidden-Hanger and a screw-anchoring method to combine stability with a clean, finished appearance. Half-round gutters are "U" shaped gutters that add a classic or refined look to your exterior finish. Box gutters are shaped like boxes and can add a more industrial feel to your home's aesthetic.
Aluminum Rain Gutters
Copper Rain Gutter Installation
Copper rain gutters are very durable and resist corrosion effectively. They can last long beyond any homeowner's lifetime, sometimes up to over 100 years. After a while, their color will change into a beautiful green patina shade. Every copper gutter installed is designed to ensure leak-free functionality.
Copper Rain Gutters
Seamless Half Round Rain Gutter Installation
Seamless half round rain gutters are shaped like a "U" and are often called U-shaped gutters. While they cannot carry as much as K-style or box gutters, half-round gutters disperse water faster than other types due to a lower amount of friction in their turns. They are made to be seamless and thus do not leak. You will be able to choose from several different colors, sizes, materials, or thicknesses.
Seamless Half-round Rain Gutters
Box Rain Gutter Installation
Although usually used for commercial buildings, box rain gutters can be installed on residential buildings and homes that require a more modern aesthetic. Box gutters are known for their simple, straight look and their ability to accommodate larger water flow runoff from your roof.
Box gutters are great for when large gutters are needed due to roof size and field conditions requiring less leader locations. They come with a back flange option for flat roofs, requiring installation directly on the top end of the roof line. These gutters usually require a 4×5 smooth or corrugated downspout to accommodate the increased water volume.
Our box rain gutter installation service will yield professional and beautiful results. Whether you are looking for commercial gutters or high-end residential gutters, there's no large box gutter problem we cannot solve.
Box Gutters
Custom Rain Gutter Installation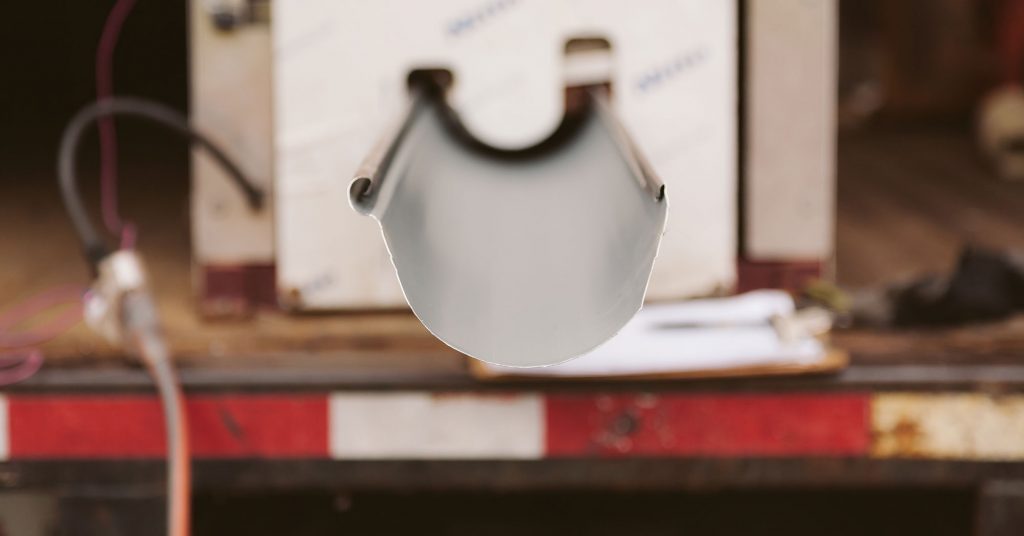 Are you a home builder, contractor, or homeowner that requires specialized, custom rain gutter installation services and/or materials?
If our aluminum, copper, half-round, seamless half-round, box or K style gutters don't fulfill your project requirements, our custom gutter installation service can help you achieve professional and beautiful results.
Primarily meant for commercial or high-end residential buildings, there's no gutter problem we cannot solve. Storm Master has been installing gutters since 1977. Our experience encountering and solving difficult water flow problems makes our trusted installers the clear choice for professional installation or replacement of your custom residential or commercial gutters.
Custom Gutters
Rain Gutter Protection Installation
We also offer rain gutter protection installation services. These include:
LeaFree prevents debris from falling into your gutters while still allowing rainwater to flow effectively.
Leaf Relief is a hanging system that supports your gutters and strengthens them from end to end.
GutterRX encloses your gutters to prevent debris or birds' nesting materials from entering.
Gutter Protection
We are ready to assist you with all your gutter installation needs.
Request a quote or call Storm Master today at 1-888-795-6780 for a free, no obligation estimate.